Introduction
In 2019, there's more content out there than ever before. But most of it just isn't connecting.
In fact, over 94% of blog posts don't get a single visitor from Google.
In a sea of filler content, effective research is a game-changer. After all, studies show that content based on empirical research is more persuasive than content based on narrative alone. Research enables you to create content that makes a genuine impact on your readers… and gets liked and shared, over and over again.
If you want to create in-depth, research-driven content that…
positions you as an expert
offers specifics your readers won't find anywhere else
builds authority that sets you apart from the crowd
… then this is the guide for you.
Let's dive in.
Decide what to write about
First things first. Everything you write is for your audience. If you want to write content that connects, start by exploring their needs and interests.
Keep a list of potential content ideas
There's nothing worse than sitting down in front of a blank screen and being totally out of ideas. Creating a blog topic list is a no-brainer. It ensures that when you sit down to write, you'll have something you can get started on right away.
I'm a huge fan of Asana. I use Asana to collect content ideas, manage projects, and keep everything in one place. For me, creating a kanban board in Asana was a natural solution for tracking ideas for blog posts and articles.
Create a system for tracking ideas that fits into your existing workflow. If you do everything in G Suite, create a spreadsheet with Google Sheets. If you already use Trello, create a Trello board.
Research the topics your audience cares about
Once you have some ideas to work with, it's time to dig a little deeper and find out what topics will really resonate with your target audience.
Do some reflection. Think about what you already know about your audience.
Who are they?
What do they care about?
What are they interested in learning more about?
What problems do they want to solve?
What keeps them up at night?
What are the specific things they really want?
Look at what people are searching. Once you have some broad topics in mind, Google is your best friend. Open up a new window and type in the topic you're thinking about writing about. Check out the drop-down search suggestions. Many of them will make great blog post topics.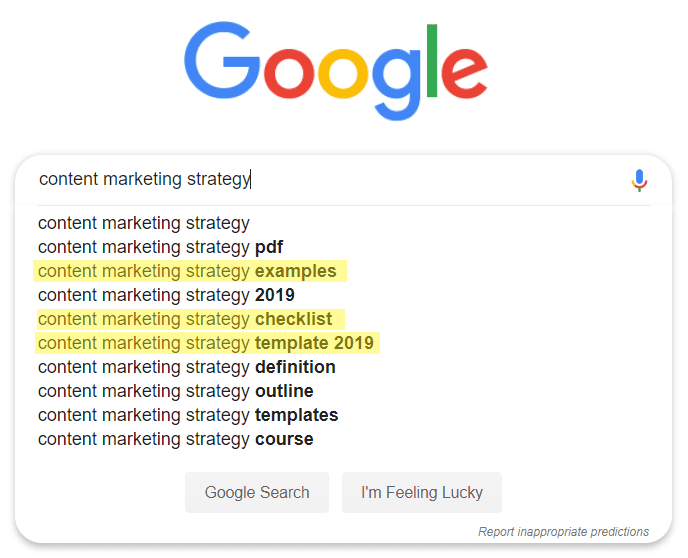 For more inspiration, click through to the search results. Scroll to the bottom of the page to find other related search keywords people searched for.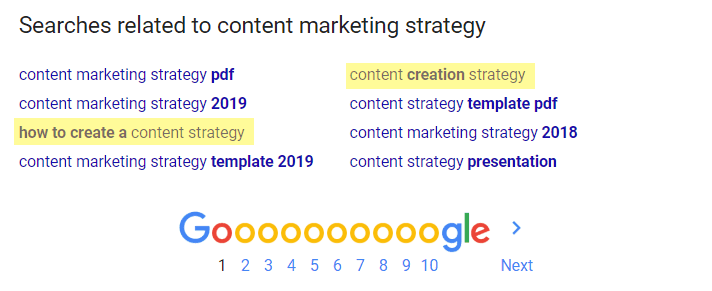 Check to see if the search results include a People also ask… box. The questions you see there often make for a great focus for a piece of content.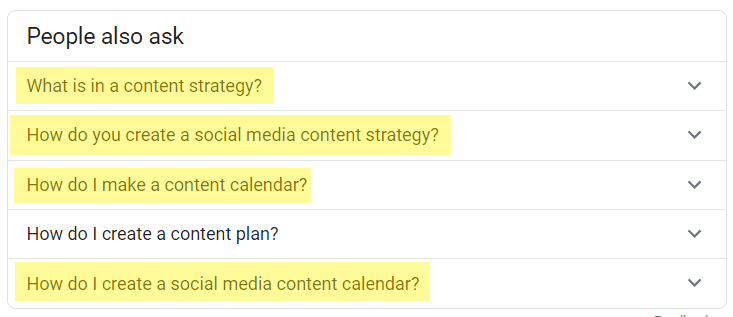 Go where your readers go. You can learn a lot by hanging out in the same online communities and forums as your readers. Pop in and take a look at what your readers are talking about. What's trending? What questions are they asking?
Spy on the competition. Chances are, others have already covered your topic before. As you develop your own content, it's vital to know what others have written. I use Ahrefs for competitor research, but you can use your favorite SEO research platform.
Look for content gaps. When you notice keywords that haven't been covered extensively by your competitors, you have a terrific opportunity to jump into that area and create something more comprehensive… knowing you'll become the go-to person on that topic.
And don't give up on a topic because others got there first. You can still build your authority in that area by finding your own unique angle of approach.
Come up with a unique angle of approach
Too much content marketing is flat-out boring. Finding a fresh angle enables you to hook readers and deliver content that stands out from the crowd.
Using a template for your blog post can make all the difference. Time and time again, certain formulas have proven effective in drawing readers in. For instance, blogger Laura Yates didn't just write another article on how to write a blog post. She created an ultimate guide to blogging, targeting a common pain point for online writers — delivering quality consistently.
Always look for a way to take an original approach while continuing to deliver value to your readers. It often takes just a little ingenuity to add a creative angle to your content. Devesh Khanal at Grow & Convert has catalogued a number of strategies for adding originality to your content.
The research process
Once you have a topic in mind, the next step is to find relevant sources.
Collecting information
For information gathering, you'll want to use a bookmarking tool. Evernote is my personal go-to. Pinboard, OneNote, and Bear are also great options.
Whenever you find something useful, save it to your notebook. Use tags you can remember easily so you can quickly find resources when you need them. Here's how I tag articles I save in Evernote.
You may want to use a different approach if you use lots of print sources. In an index card system, you write down every idea you want to remember on a card. To keep cards organized, tag them with a specific theme they relate to. Ryan Holiday has shared in detail how he used an index card system to research his recent bestsellers like The Obstacle is the Way.
Gathering ideas
Take notes as you read. Jot down key ideas you want to be sure to emphasize and connections that have jumped out at you. Don't worry about precision. Just write down your thoughts as they occur to you.
Now is the time to start sketching your outline. You'll start to get ideas for how to structure your piece during the research phase. You might stumble upon a mind-blowing data point on social media ROI that would be the perfect starting point for your article. Or you might realize exactly how to order the points in the last section of the article.
You might forget these insights later — so get them down on paper now! All these ideas will make it much easier to create a great outline for your article when you get to the planning stage.
Don't dive in too deep
During the research process, keep your eyes on the prize. Your goal is not to find out everything you can about your topic. You want to collect enough information to write an informed, authoritative post. Several detailed articles from authority sites will typically be more than enough to get started. If you get overloaded with information, you'll be drowning later when it's time to write your article.
Go-to research tools
Using the right research tools can seriously raise your game. Google's advanced capabilities can help you get the results you're looking for. And by using more specialized sites, you can find information that enables you to deliver incredible value for your readers.
Google
Google is your natural first step. Do a Google search for your most relevant keywords. Look for the most useful, informative sources, preferably from high domain-authority sites.
At this stage, you're familiarizing yourself with the topic, particularly if it's new to you. But you're also scanning the landscape to see how others have covered this topic. At this stage, you're looking for an angle of approach that sets you apart from others.
Google Alerts
Setting up Google alerts can streamline your research process. You can easily set up alerts for topics you write about often, bringing regular updates straight to your inbox.
To get started, visit www.google.com/alerts and type the search term you want to create an alert for.
I've configured my alerts to all come to my inbox at the same time each week, so I can go through them and bookmark quality resources.
It's a super-simple way to get useful articles and reports coming to you on the regular.
Academic Research: Google Scholar and DeepDyve
It happens all the time. Someone cites a questionable piece of information. It sounds impressive — so other writers pick it up and repeat it again and again. Before you know it, it's accepted as fact.
With so much unreliable information out there, how can you protect your credibility?
Never take what you read at face value. Always cite research from authoritative sources. Your best bet is peer-reviewed academic journals.
Google Scholar is an easy way to find academic studies — and it's as user-friendly as any other Google search. Head to www.google.com/scholar and type in your search terms.
As you can see, Google Scholar has its limitations:
the search results aren't always academic sources
many relevant sources are missing from search results
you often have to pay for access to articles on publisher sites
For these reasons, I prefer DeepDyve for academic research. With DeepDyve, you get cleaner, more focused results drawn exclusively from academic sources.
DeepDyve also has drawbacks — there's a monthly cost of $49 to access the database. And while you can read as many articles as you like, you can't download them. But it's the best option out there for efficiently accessing academic research.
Statista
Finding the right data point can make your content far more compelling. And Statista makes it easy to find the exact numbers you need, with a collection of over 22,000 sources you can search in seconds. Writing an article on trends in content marketing? With Statista, you'll learn that 50% of B2B companies plan to ramp up their content marketing in 2019.
Like DeepDyve, Statista comes at a price — $49 a month for access to the full version. But the free version still gives you access to an enormous amount of great information. There's no better option out there for finding relevant statistics quickly and easily.
Research Reports and Whitepapers
Leading organizations often publish research reports and whitepapers that are jam-packed with useful data. For example, the CMI's B2B Content Marketing Research Report and Campaign Monitor's Email Marketing Industry Report offer a wealth of informative data that can inform your research. And interesting findings can also help jump-start your content brainstorming process.
Books
All these tools will help you uncover facts that will give your articles more credibility. But if you want to write in-depth content, you need to have the insight and conceptual understanding to put it all together.
Read consistently. It's no accident that some of the most successful marketers and entrepreneurs make it a point to share their favorite books. Choose substantive books that are relevant to your topic. The more widely you read, the better equipped you'll be to create content that stands out.
Planning Your Article
Getting organized is critical at this point. You've got piles of useful information. But you'll waste lots of hours writing in circles if you try to dive right in. To make the process efficient, you need a plan.
Always write from an outline
I never write anything without a solid outline in place first. It doesn't have to be fancy — just make a bullet pointed list of the main points and subpoints you want to make.
With an outline, you're not locking yourself into anything. You're free to change your mind and move things around as you write.
But you will know what to say next at every step of the writing process. And often, you can write your thoughts straight from the outline. Everything flows. It's a total game-changer.
"But I have an outline worked out in my head, can't I just use that?" No.
If all you have is a rough idea in your head, you haven't committed to the structure of your piece enough to even write it down. You'll find yourself constantly rearranging things in your head — or worse yet, forgetting where you were going altogether.
Flying blind is never a good idea. Do yourself a favor and write an outline.
Plan where you'll include your research
Plan where you'll include points from your research as you outline. Remember, it doesn't have to be perfect. I often make a note to myself in brackets like this [MENTION DATA ON STATISTICAL EVIDENCE HERE]. If I want to link to an article, I often include a hyperlink to the source in my outline.
As you decide what research to include, here are a few useful guidelines.
Don't cite a number without a solid source
We already talked about how the web is chock-full of unreliable information. And that's an opportunity for you to stand out. Use trustworthy sources only. Quality research enables you to show up as an authority and elevates the integrity of your writing.
Don't say things you know research does not support
Don't damage your credibility by making claims that don't hold up. There are plenty of ways you can make your case. If you know there's solid research that contradicts something you want to say, don't say it. And if you're not sure, do some digging and find out.
Don't use one-off studies
Consider the balance of research. Suppose you turn up 43 studies that show that reducing the length of your form fields increases conversions, and one that is inconclusive. You might be thinking about writing a new blog post: "Stop Worrying About Your Form Length — Study Finds No Effect on Conversions."
But you'd be giving readers the wrong impression — because you know the balance of the research says otherwise. Never write a piece that shades the truth.
Don't try to talk about things you don't understand
It's so easy to access information these days that it's tempting to think you can write about any topic… with a little background research.
Research is powerful. But it can't overcome a basic lack of understanding. Without a frame of reference for what you're writing about, you're likely to make basic mistakes that will come across in your writing.
For example, I specialize in creating content for B2B and SaaS companies. But I'd never try to create content for a high-end wealth management firm. It's not my area of expertise.
Know your strengths. Stick to areas where you can excel.
Writing Your Article
It's time to write. The writing phase is all about synthesizing everything you've learned into a coherent piece of content. And getting into a good writing flow is crucial.
Once you're in the groove, you'll pay attention to whether your writing flows naturally. You'll notice if your points aren't making sense. And you'll catch other subtleties you'd miss if you were distracted.
Personally, I'm much more productive when I write in a distraction-free environment. There are lots of options out there for eliminating distractions.
Bear — A simple, clutter-free writing app for Mac OS X.
Distraction-Free Mode for Google Docs — If you work mainly in Google Docs, this Chrome extension is a dream come true, turning Google Docs into a distraction-free writing space.
Typora — I'm low key obsessed with the Typora desktop app, which offers a minimalist writing environment for Windows, Mac OS X and Linux. I pair it with the Freedom app to block out all writing distractions.
Whatever you choose, turn your phone off and get it as far away from you as possible. You're trying to get into a good writing flow, and distractions are the enemy.
Don't worry about perfection. Or quality. Or really anything. Just get all your ideas out on paper. Anne Lamott called this stage of writing "the shitty first draft." To make it happen, you'll have to ignore the internal critic that lurks inside, urging you to revisit what you just wrote down.
It's much harder than it sounds. But when you let go and write, you'll eventually hit your stride and come up with some of your truest words and your best ideas.
You'll often hit points as you write where you want to include a supporting data point or quote that you don't have at hand. Don't slow down. Use the bracket hack we just talked about. Type [ADD QUOTE FROM JACOB MCMILLEN] into your outline and keep moving.
Editing to kick it up a notch
Everyone's editing process is different. Before publication, I take my content through a series of editing sweeps.
First I read the entire piece, looking at things at a big-picture level. I'm making sure everything flows in a logical order, cutting large parts or moving them as needed. After that, I read through it again, looking at things at a more granular level. This time, I'm revising sentences and making stylistic changes so that the piece of content has the right tone and feel.
By now, things are typically coming together pretty nicely. At this point, I make a research sweep through the piece. I read it through again, looking for opportunities to level up the research quality of the article.
When I notice points that could be stronger with the addition of supporting research, I type a bracketed note to myself in the text. Later, I revisit these notes, finding the supporting points I need and adding them to the article.
When you do a research sweep, always keep the end goal of your piece in mind. With a substantive piece of content like a whitepaper, I usually go all in on finding supporting data that will be useful to my target audience. With a blog post, context is crucial. You'll want to blend a friendly, conversational tone with supporting evidence that builds your authority.
After the research sweep, I do two final sweeps through the article. I check for spelling and grammar, and then polish the formatting. And with that, it's ready to send out into the world!
Your turn
Building a research process takes time. But once you get started, you'll be surprised how easy it is.
Get to know your readers and the problems that are important to them. Gather research from authoritative sources. And as you write and revise, look for places where you can add further research to engage and inform your audience.
How do you do research? What are your favorite tools and strategies? Leave a note in the comments below and let me know!